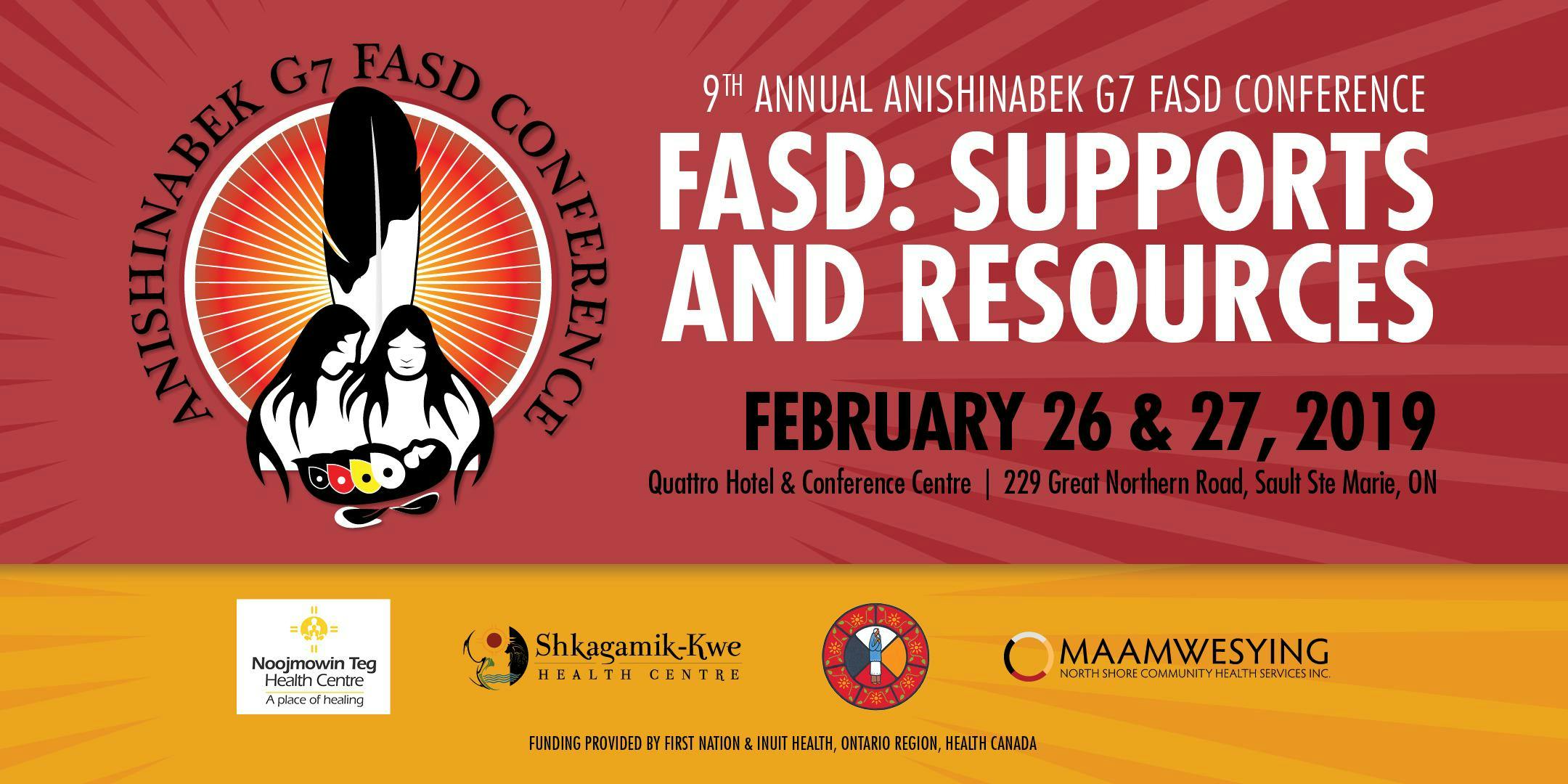 Image from eventbrite.com
9th Annual Anishinabek G7 FASD Conference
"FASD: Supports and Resources"
---
Keynote Speakers:
Jodee Kulp | Live Abilities; Better Endings, New Beginnings | Surviving and Thriving with FASD
Dr. Alan Bocking | Scientific Advisor, Can FASD Research Network | What's new in FASD Research
Panel Presentation | Individuals / Parents / Caregivers with lived experience
---
Workshops:
Culture & FASD
FASD & Sexuality
Successfully transitioning from Youth to Adulthood with FASD
FASD an the Justice System: Challenges, Strategies, Gladue Reports
Self-Regulation Strategies for Individuals with FASD
FASD and Nutrition
Front-line recovery work with Women and Men with FASD
FASD - Exciting new intiatives
---
Rooms are available at the Quattro Hotel, please quote: "Anishinabek G7" when booking. You can contact the hotel directly by calling: 1-800-563-7262 to reserve a room.
Room rates are as follows:
Standard King room - $99.00 +13% HST & 4% DMF
Executive King suite - $109 +13% HST & 4% DMF
Double Queen suite - $114 +13% HST & 4% DMF
Family Suite - $139 +13% HST & 4% DMF
* Registration fee includes breakfast, lunch and refreshment snacks and rescource materials through out the conference. * A limited number of sponsored registrations are available to individuals and families living with FASD. Please contact the Organizers for information and availability before registering. * "Pay by Check" option available on check-out for individuals and organizations, please follow ticket purchase instructions and complete order form. * Facilitator ticket type available for registration.
Notice: Ticket sales will end on Tuesday, February 19th at 9 am.
1293 Views - 28/02/2019 Last update
Nearby hotels and apartments
229 Great Northern Road, Sault Ste. Marie, ON, Canada