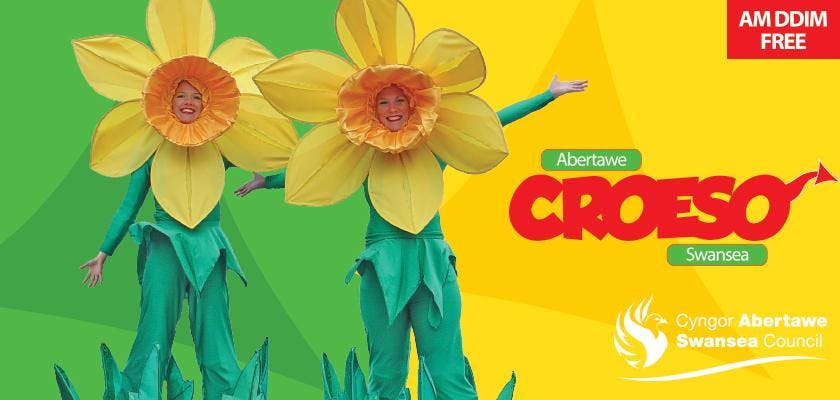 Image from eventbrite.co.uk
Mae'n rhaid i bawb sy'n cymryd rhan yn y Daffodil Dash gwrdd wrth ben uchaf Ffordd y Dywysoges erbyn 10.45am

Gwisg - unrhyw beth Cymreig

Mae'n rhaid i bob plentyn dan 4 oed fod yng nghwmni oedolyn.

Gwisgwch esgidiau addas.

Bydd y ras yn dechrau ar ben uchaf Ffordd y Dywysoges gan ddilyn yr ardal i gerddwyr a gorffen wrth y llwyfan yn Sgwâr y Castell.

Mae cyfranogwyr yn cymryd rhan ar eu menter eu hunain. Nid yw Dinas a Sir Abertawe'n cymryd unrhyw gyfrifoldeb am salwch, anaf, colled neu ddifrod y bydd y cystadleuwyr yn ei ddioddef

Drwy gymryd rhan, mae'r holl gyfranwyr yn cadarnhau y gellir defnyddio eu henwau, unrhyw ddarnau o ffilmiau neu luniau a dynnir ohonynt yn ystod y Daffodil Dash i roi cyhoeddusrwydd i Ŵyl Croeso neu ddigwyddiadau Dinas a Sir Abertawe.
--------------

All those taking park in the Daffodil Dash must meet at the top of Princess way by 10.45am.

Dress code – Welsh Themed

All children under 4yrs to be accompanied by an adult

Please wear appropriate footwear.

The dash will commence at the top of Princess Way, follow the pedestrianised area and finish infront of the stage in Castle Square

Participants enter at their own risk, Swansea Council takes no responsibility for illness, injury, loss or damage suffered by entrants

By taking part, all participants confirm that their names, video footage or photographs taken during their the Daffodil Dash, may be used to publicise the Croeso Festival or City and County of Swansea events.
662 Views - 03/03/2019 Last update
Nearby hotels and apartments
Princess Way, Swansea, Wales, UK