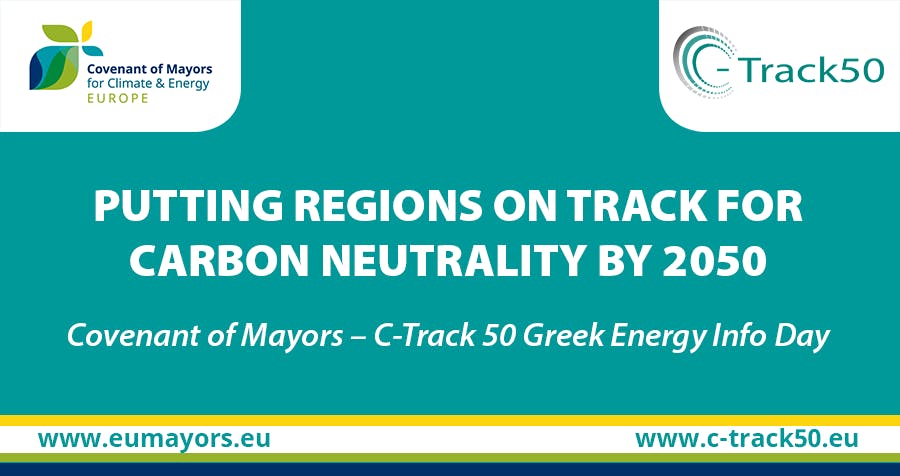 Image from eventbrite.co.uk
To έργο C-Track 50, σε συνεργασία με το Ευρωπαϊκό Γραφείο του Συμφώνου των Δημάρχων, συνδιοργανώνουν μια ημερίδα στις 19 Σεπτεμβρίου, για να υποστηρίξουν τις δημοτικές αρχές στην προσπάθειά τους για δραστική μείωση των εκπομπών αερίων του θερμοκηπίου.
Στο πλαίσιο της ημερίδας θα παρουσιαστούν βέλτιστες πρακτικές και παραδείγματα δήμων ως προς το μακροπρόθεσμο ενεργειακό σχεδιασμό, συμπεριλαμβανομένου της προσαρμογής στην κλιματική αλλαγή, και θα παρουσιαστούν χρηματοδοτικές ευκαιρίες για την τοπική αυτοδιοίκηση.
Πλην των προαναφερθέντων, οι δήμαρχοι θα έχουν την ευκαιρία να εκφράσουν τη δέσμευσή τους για τη μείωση των εκπομπών αερίων του θερμοκηπίου, μέσω συμμετοχής σε Τελετή Υπογραφής του Συμφώνου των Δημάρχων. Η τελετή αυτή απευθύνεται σε όλους τους Δημάρχους, είτε:
έχουν ήδη υπογράψει τους στόχους του 2020 και επιθυμούν να επικαιροποιήσουν το ενδιαφέρον τους για τους στόχους του 2030,

έχουν ήδη υπογράψει τους στόχους για το 2030,

ενδιαφέρονται να υπογράψουν για τους στόχους του 2030.
------------------------------------------------------------------------------------------------------------------------------------------
In the 2050 EU Energy Strategy, the EU has set a long-term goal for reducing greenhouse gas (GHG) emissions by 80-95% when compared to 1990 levels, in line with the efforts of the Paris Agreement to limit the temperature increase to 1.5° above pre-industrial levels. In order to achieve this ambitious goals, public authorities at all levels need the technical know-how and resources to develop long-term climate and energy actions. This is precisely the goal of the C-Track 50 project, which aims to mobilise and guide public authorities in defining long-term energy policy priorities and to support them in developing, financing and implementing ambitious integrated sustainable energy and climate policy action plans.
C-Track 50 will be in Greece in September to organise a Greek Energy Info Day together with the Covenant of Mayors - Europe to support Greek local authorities and give them the necessary tools and skills to reach carbon neutrality. Mayors are invited to join and show their commitment to implementing the EU's climate and energy objectives on their territory. Local public authorities' staff will have the chance to hear about the experience of fellow municipalities within and outside of Greece and see how the challenge of long-term energy planning and decarbonisation can be tackled. Financing opportunities for local authorities will be presented. Various stakeholders and Greek officials will be there to share their knowledge and exchange with participants.
Join us in Athens on the 19th of September for what promises to be an interesting day on Climate & Adaptation issues!
478 Views - 20/09/2019 Last update
Nearby hotels and apartments
28 Athanasiou Diakou, Athens, Greece, 117 43, Kentrikos Tomeas Athinon, Greece