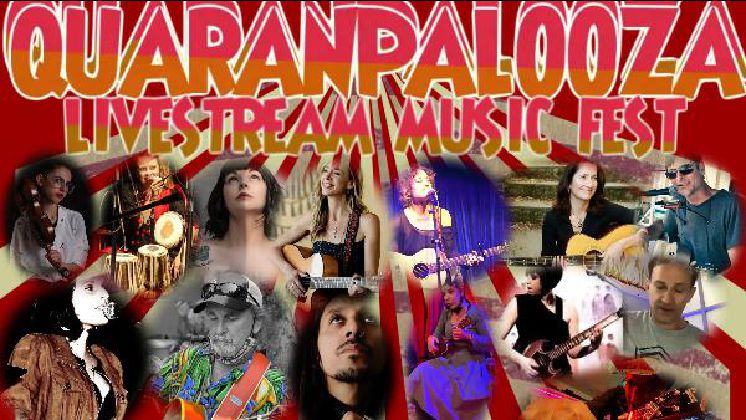 Image from eventbrite.com
QuaranPalooza: Two Years!
Hi Friends!
We're excited to bring you the multi-performer, multi-genre livestreaming music festival extravaganza we call QuaranPalooza. This is number 25, and we have 30 fantastic performers + 12 hours of live music for ya, Saturday 5/28 12PM - 12AM PDT, with performers from NYC, Malaysia, New Zealand, Germany, Arkansas, Albany, NY and plenty of talent from right here in The Bay Area! This is our two year anniversary, come celebrate with us in the zoom!
Your ticket gets you onto The Zoom + into the party!!
Get a ticket @ https://bit.ly/mayqptickets and join us in The Zoom, and we'll donate 25% of ticket sales to Bay Area Cancer Connections! We have a goal of raising and donating $100, you can help make that happen by getting a ticket or can donate after clicking the tickets button.
Please get a ticket and join us in the Zoom!
The show will feature:
12-12:20 Joana Carvalhas
12:25-12:45 Bert Lee
12:50-1:05 Ant Fujinaga
1:10-1:25 Sara Rodenburg
1:30-1:50 Deborah Crooks
1:55-2:05 David Jesitus
2:10-2:25 Nikki Nash
2:30-2:50 Craig Greenberg
2:55-3:15 The Hughes Effect
3:20-3:40 Pat Nevins
3:45-4:05 Clay Hawkins
4:10-4:30 Dore Coller
4:35-4:55 Dave Ricketts
5-5:15 J Leigh Stone
5:20-5:35 Frances Ancheta Becker
5:40-5:55 Sunny Balopole
6-6:20 Maggie Cocco
6:25-6:40 Anna Troy
6:45-7:05 Az Samad
7:10-7:25 Lisa Graciano
7:30-7:45 Katherine Park
7:50-8:10 Cello Joe
8:15-8:35 Kate McDonnell
8:40-9:10 Sol Mriya
9:15-9:35 Aminah Chishti
9:45-10:05 Meredith Edgar
10:10-10:30 Kevin Radley
10:35-10:55 John Rybak
11-11:25 DB Walker
11:30-12 The Genie
A $15 ticket gets you into the fest and onto The Zoom with us + we donate 25% of ticket sales to Bay Area Cancer Connections!
Tickets -> https://bit.ly/mayqptickets
Event Page -> https://www.facebook.com/events/5163380700376702


4712781 Views - 30/05/2022 Last update