DBT For Kinky People: Distress Tolerance Mod. [November 22nd-December 27th]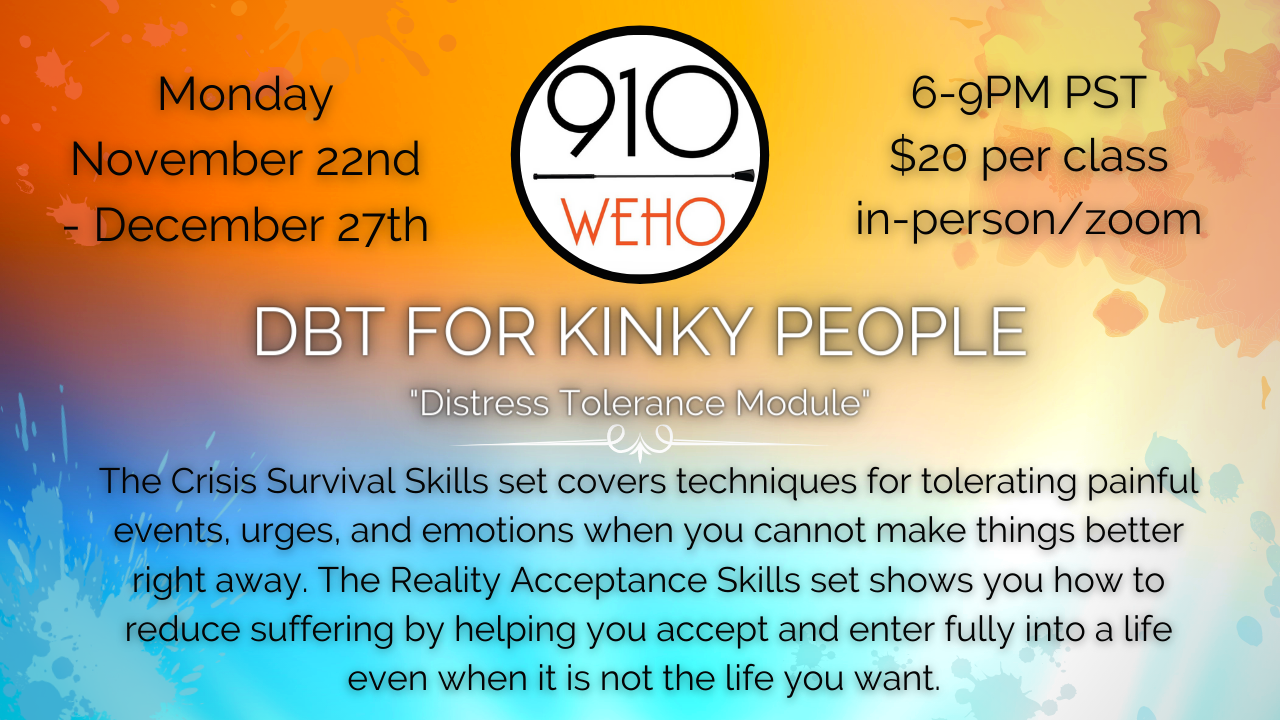 Image from eventbrite.com
From Mon 22 November 2021 to Mon 27 December 2021
From Monday 22 November 2021 to Monday 27 December 2021
---
**PLEASE NOTE!** If you are attending this class over zoom, on the night of the class you will receive an email from the account you registered with on Eventbrite that will contain the zoom meeting link and any additional attachments. To participate, you will need to download the free, basic version of the Zoom app before the class! This class will not be recorded and is not available for later viewing. For more information, please contact us at info@910weho.com. Thank you!
All 910 classes are PST time!---THIS IS A HYBRID CLASS!!!
This means that a limited number of tickets will be sold to those who wish to attend this class in-person, while a larger number of tickets will be made available for those who wish to attend this class virtually.
Even though 910 is taking every precaution to make sure that this event is safe and in compliance with CDC codes, please understand that public gatherings, even socially distanced ones, involve a higher risk than virtual encounters.
--------------------------------------------------
ALL ABOUT DBT
When: Mondays from 6-9PM PST, offered in-person and via zoom.
Who: Facilitated by Thomas Hoffman M.S. certified DBT instructor
Cost: $20/class
Group Page: https://fetlife.com/groups/218218/about
Dialectical Behavioral Therapy (DBT) was invented by Marsha M. Linehan Ph.D to help people change unwanted behaviors, emotions, thoughts, and events in their life that cause misery and distress, as well as teach them how to live in the moment, accepting what is. Have you ever heard of mindfulness? This was an idea popularized by DBT Skill Training!
DBT at 910 works like this:
You sign up for a module, which varies in length from 2 weeks to 7 weeks.
Each module is aimed at learning a specific skill set.
Once a module begins, it is closed to late entrants. Everyone enrolled in the module must show up for each Monday class. If a person misses more than one class, they will be asked to drop out of the module and start over with the next available one!
At this time, tickets are sold all together - if a module has 3 weeks, you will pay for all 3 weeks at once when you purchase your ticket. This means that a 3 week module would cost $60 up front, securing your place in all three classes.
The Distress Tolerance Module is a 6-week commitment that takes place on Mondays starting November 22nd and ending with a final class on December 27th. All 6 classes up front cost $120 in total. PLEASE CONTACT US IF YOU REQUIRE FINANCIAL ASSISTANCE!
Distress Tolerance Module (5 weeks)
The handouts and worksheets in the Distress Tolerance module help you learn to tolerate and survive crisis situations without making things worse. There are two main sets of these forms. The Crisis Survival Skills set covers techniques for tolerating painful events, urges, and emotions when you cannot make things better right away. The Reality Acceptance Skills set shows you how to reduce suffering by helping you accept and enter fully into a life even when it is not the life you want. This module also includes a set of specialized handouts and worksheets for When the Crisis Is Addiction.
About the moderator
Thomas Hoffman M.S. is the sole founder and general manager of 910 WeHo, a passion project that stems from a desire to offer affordable community services to the BDSM population and to create a safe, progressive space for women and members of the LGTBQ+ community.
-----------------------------------------------
910 will only be allowing vaccinated guests to attend this class in-person! Please bring proof of your vaccination by showing us your completed vaccination card at the door! If you show up and cannot provide proof of your full vaccination, you will be turned away with no refund. Please do not purchase an in-person ticket for this event if you are not fully vaccinated. Thank you!
~***~~***~~***~~***~~***~~***~~***~~***~~***~~***~~***~
What is 910 WeHo doing to ensure that this event is safe, controlled, and compliant with current covid-19 restrictions?
910 WeHo is taking great care to make this in-person event as safe as possible. We are aware of CDC guidelines and will be instigating the following measures to ensure that guests and staff are not exposed to unnecessary risk:
Social Distancing - Social distancing is strongly encouraged, especially for guests who are not part of the same pod. Seating will be carefully set up to make this easy and clear!
Masks - Masks will be provided upon request but are not mandatory at vaccinated-only events!
Call Outs- REFUNDS WILL BE GIVEN IN FULL TO GUESTS WHO CALL OUT SICK BEFOREHAND. GUESTS WHO ARRIVE ILL WILL ONLY BE GIVEN A PARTIAL REFUND! Please do not show up to this event sick or with symptoms of illness.
Administering Hand Sanitizer - Guests will be required to use hand sanitizer before entering our facility and may be asked to use hand sanitizer again upon exiting.
Tickets Purchased Beforehand - All tickets will be purchased beforehand to minimize the need for contact. This means that nobody will need to handle credit cards or cash. Please do not attempt to purchase a ticket at the door. We will only allow people through who have registered online via eventbrite and reserved their space by paying in advance.
Upholding CDC Occupancy Guidelines - Upholding CDC Occupancy: As CDC guidelines continue to change, we will continue to honor them. Our in-person events and classes are vaccination only, which means that our occupancy numbers will reflect that.
When do the doors open?
Guests will be allowed into the facility as early as 5:50PM! We will keep our doors open until 6:15PM, at which point we will no longer be allowing guests to enter unless they have contacted us to let us know when they will arrive. Please email us at tom@910weho.com BEFORE 6:15PM if you know you will be running late! Missing a class or failing to contact us before the cutoff time does not entitle you to a refund.
How much do tickets cost?
Tickets cost $20 for each class, which means you will pay $120 up front for all six! If you are in financial need and wish to discuss our sliding scale, please contact tom@910weho.com! In-person tickets must be purchased online beforehand via eventbrite and are non-transferable: they must match the name on our guest list at the door.
Where is 910 WeHo?
910 N La Cienega Blvd, Los Angeles 90069
Can I apply to be vetted for membership?
Yes! 910 WeHo has a membership program, but we put every applicant through a vetting process before extending an invitation to join. You will be invited to apply, which only requires you to share your name, an email we can reach you at, and your fetlife handle (if you have one). We will not charge you a single cent to apply!
Where can I park?
There is street parking, meter parking, and even parking structures within walking distance. We recommend using the residential side streets for free parking, as there are many near our building. If you need special arrangements due to a disability, please contact us at info@910weho.com so we can help accommodate you!
Got questions? Comments? Concerns? Contact us at info@910weho.com!
---
**REFUND POLICY!**
910 WeHo will refund the cost of your ticket (not the eventbrite fee) if the refund is requested up to thirty minutes before the start of your very first class meeting. Once you have attended part of a module, 910 WeHo does not guarantee refunds, although you may still request a refund and we may choose to grant it (either in-full or partially) at our discretion. If you know you will not be able to attend every class in a module, please request a refund early by contacting us at tom@910weho.com or do not sign up for the module in the first place! DBT Training at this low cost is in high-demand ; the reason we may not grant a refund request once a module has started is because we are denying another person the space you reserved. If you don't show up or if you decide to stop attending, we are unable to offer that space to anybody else during the duration of the module. Thank you for understanding!
9536 Views - 28/12/2021 Last update
910WeHo
910 North La Cienega Boulevard, Los Angeles, 90069, CA, US
---
Are you an event organizer?
Create events for free. They will be immediately recommended to interested users.
Create event
Nearby hotels and apartments
910 North La Cienega Boulevard, Los Angeles, 90069, CA, US
---
---
910WeHo
910 North La Cienega Boulevard, Los Angeles, 90069, CA, US
Event from
eventbrite.com
---
Are you an event organizer?
Create events for free. They will be immediately recommended to interested users.
Create event