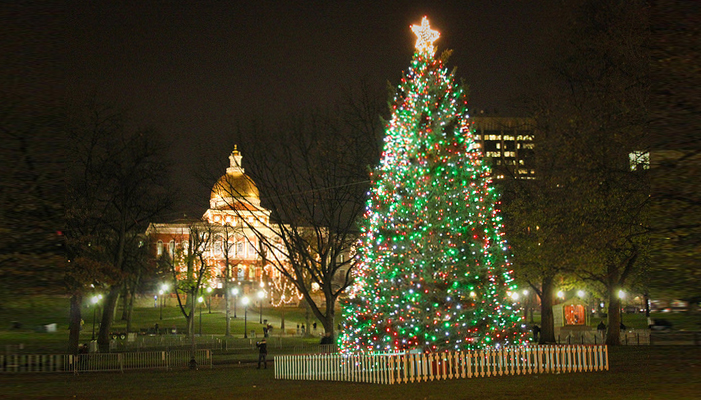 Image from thebostoncalendar.com
Join The Skating Club of Boston at The Boston Common Frog Pond for a FREE figure skating ice show with national and international competitive figure skaters, soloists, groups, wee skaters, and Team Excel Synchronized Skating and Theatre On Ice of Boston teams!
Following the show, join Mayor Marty Walsh for The Boston Common Tree Lighting ceremony. As always, the tree is being gifted to Boston by the great province of Nova Scotia.
The Mayor will be joined by Santa and members of the Royal Canadian Mounted Police. Refreshments, music, and entertainment will be provided by local groups. Lights on the tree - almost 7,000 of them - go on at about 7:55pm, followed by lights on 80+ other trees throughout the Common and the Public Garden. When the Mayor turns on the lights, the Boston holiday season officially begins! The show closes with a special fireworks display over the Common.
More about Nova Scotia's annual Christmas tree for Boston:
On December 6, 1917, two ships collided in the Halifax harbor causing a devastating explosion which killed nearly 2,000 people and left hundreds more severely injured and homeless. Nova Scotia will never forget the support Boston provided, and to say thank you, the province will once again give the people of Boston the gift of a beautiful Christmas tree. For decades, this tradition has honored the kindness Bostonians offered Nova Scotians in our time of need. This year marks the 102nd anniversary of the explosion.
#holidaytreelighting
931 Views - 06/12/2019 Last update
Nearby hotels and apartments
Surrounding areas, Boston, MA