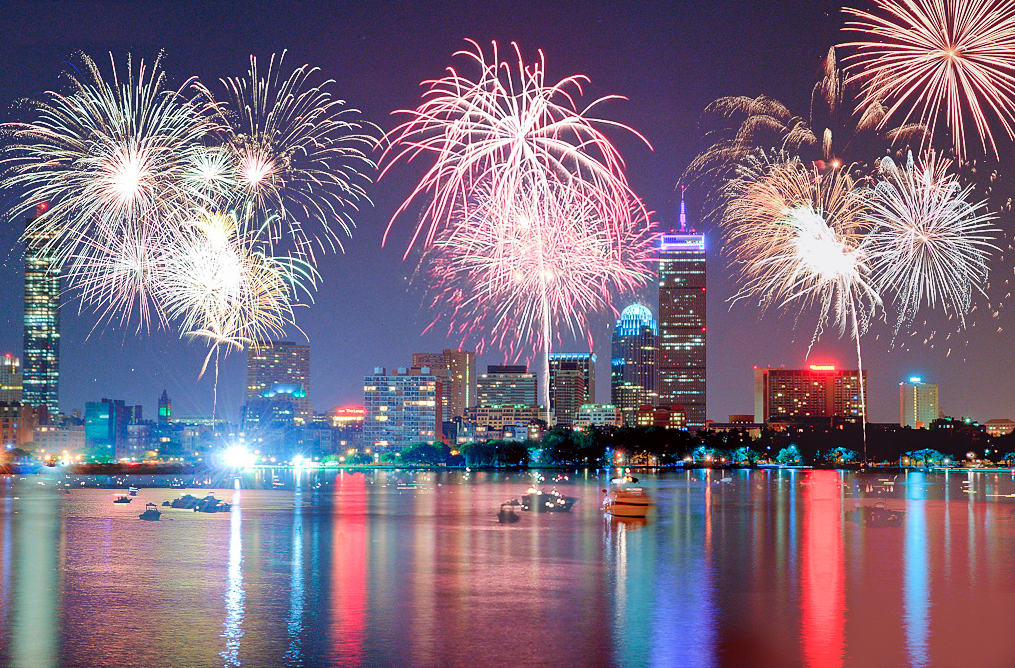 Image from thebostoncalendar.com
More details for the 2020 Boston Pops Fireworks Spectacular is TBA.
The 2019 Boston Pops Fireworks Spectacular is free and open to the public and is held at the DCR Hatch Shell on the Esplanade located at 47 David G. Mugar Way, Boston, MA.
SCHEDULE:
9am: Gates open
8:00pm: Concert begins
10:30pm: Fireworks begin
11:00pm: Fireworks Spectacular ends
The 2019 Boston Pops Fireworks Spectacular—one of this country's largest and oldest public Fourth-of-July events and one of the biggest annual outdoor concerts anywhere in the world—will open with the event's traditional F 15 Eagle flyover, by the 104th Fighter Wing from Barnes Air National Guard Base in Westfield, Massachusetts.
The headliner for the 2019 Boston Pops Fireworks Spectacular, under the direction of Keith Lockhart, is Queen Latifah—Grammy-, Emmy-, and Golden Globe award winner and Academy Award nominee—who will be featured in a selection of hits from her diverse catalog, which touches on genres including jazz, rap, R&B, Broadway, and more.
The Boston Pops Fireworks Spectacular will be broadcasted live on WHDH-TV and Bloomberg.com. As is the tradition, a major 20-minute fireworks show designed by Grucci Fireworks and accompanied by the music of the Boston Pops and other popular music of the past and present, will bring the Boston Pops Fireworks Spectacular to an end.
The Boston Pops Fireworks Spectacular will take July 4 at the Massachusetts Department of Conservation and Recreation's (DCR) Hatch Memorial Shell on the Charles River Esplanade. There will also be a large viewing screen and sound towers installed on Memorial Drive in Cambridge, to accommodate Boston Pops Fireworks Spectacular fans on the other side of the Charles River. In addition to the screens along the Charles River, a large screen will be mounted for the second year in a row on the Rose Kennedy Greenway for additional public viewing.
#BosTopAnnualEvents
2429 Views - 05/07/2020 Last update
Nearby hotels and apartments
Charles River Esplanade, Boston, MA