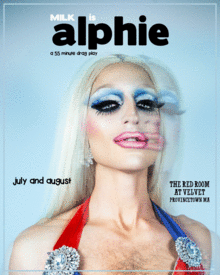 Image from brownpapertickets.com
Alphie is a star!
Alphie loves Barbra, Gaga, Dame Shirley, and Celine!
Alphie escapes the North Pole!
Alphie goes to Malibu!
Alphie finds her power!
Alphie wins an award!
Come see Alphie!
Alphie, a sexy and hopelessly romantic star of the stage and screen, with a passion for dentistry, is trying to escape her tabloid printed past. Take the journey with her saying farewell to the footlights and cruising in her atomic tangerine colored Tesla convertible. Buckle up as she speeds through the twisting salt sprayed cliffs of Malibu, screaming along with the radio.
Will she survive the twists and turns of life, love, and lip-synching in order to accept her big award? Slippery roads ahead in this 55 minute drag play (just enough to digest dinner before dancing)!
580 Views - 10/07/2019 Last update
Nearby hotels and apartments
258 Commercial Street, Provincetown, 2657, MA, United States