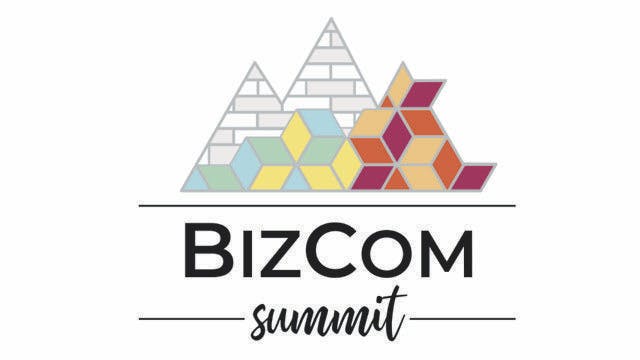 Image from eventbrite.com
Are you a business owner? Ever struggle with your online presence? What social media channels are the best to invest time in, what is SEO and how do you set up a strategy to attract PAYING leads, how do you balance time between marketing and content? These are all questions (and more!) that will be answered at the BizCom Summit, by some of the Twin Cities most savy influencer and online marketing gurus.
Join us for a unique conference to learn from industry professionals in and around the Twin Cities area about marketing, social media, and so much more. Plus, amazing give aways like:
- A 8x8x5' mantel from Manomin Resawn Timbers, a $550 value!!
- $100 workshop gift card to Projects In Person

- A design consultation with Kirsten Erickson from Alma Homes
- A Young Living Essential Oils Premium Starter Kit, a $320 value!!
Schedule:
4:00pm: Doors Open - Drinks (courtsey of Misfit Coffee), Apps, and Networking!
5:00pm: Welcome!
5:10pm: First Round of Breakouts:
Wynne Reece, Reece Law and Creatives Counsel - Legalities of Your Online Presence
Tim Brown and Bea Bonte, Hook Agency - 7 SEO Experiments that Skyrocketed Our Traffic (and One That Failed Horribly)
6:10pm: Second Round of Breakouts:
Lindsey Bomgren, Nourish, Move, Love - The 80/20 Shift Between Marketing and Content
Morgan Molitor, construction2style and Jen Biswas, Paisley & Sparrow - How to Create a Successful Influencer Blog Strategy
7:10pm: Social Media Panel: Alyssa Greve (Cambria), Meghan Joy Yancy (Meghan Joy Today), Jessica Petrie (Maccabee), Jen Biswas (Paisley & Sparrow), Moderated by Emma Sievers (BA Women)
8:00pm: Thank You, Drawings for Give Aways and Networking
Special Thank You to Our Amazing Sponsors:
Platinum Sponsor: St. Jude
Premium Sponsor: construction2style
Premium Sponsor: Alta Events Co.
Venue Sponsor: Mercury Mosaics
Photography Sponsor: Josh Haroldson
Videography Sponsor: Chelsie Lopez Production and Marketing
Recording Sponsor: Vonder Cosmos
Drink Sponsor: Misfit Coffee
Give Away Sponsor: Manomin Resawn Timbers
Give Away Sponsor: Projects In Person
Give Away Sponsor: Alma Homes
Give Away Sponsor: Young Living Essential Oils
Interested in being a sponsor? You can reach hundreds of the Twin Cities small business onwers and creatives through various sponsorship levels. Contact Emmy Ross at emmy@emmyevents.com for more information

1302 Views - 05/10/2018 Last update
Nearby hotels and apartments
1620 Central Ave NE Suite 125, Minneapolis, 55413, MN, United States