Join krippit @ Vera Bradley (Soho) for a Fireside Chat Fashion Startups & Legal Tech experts!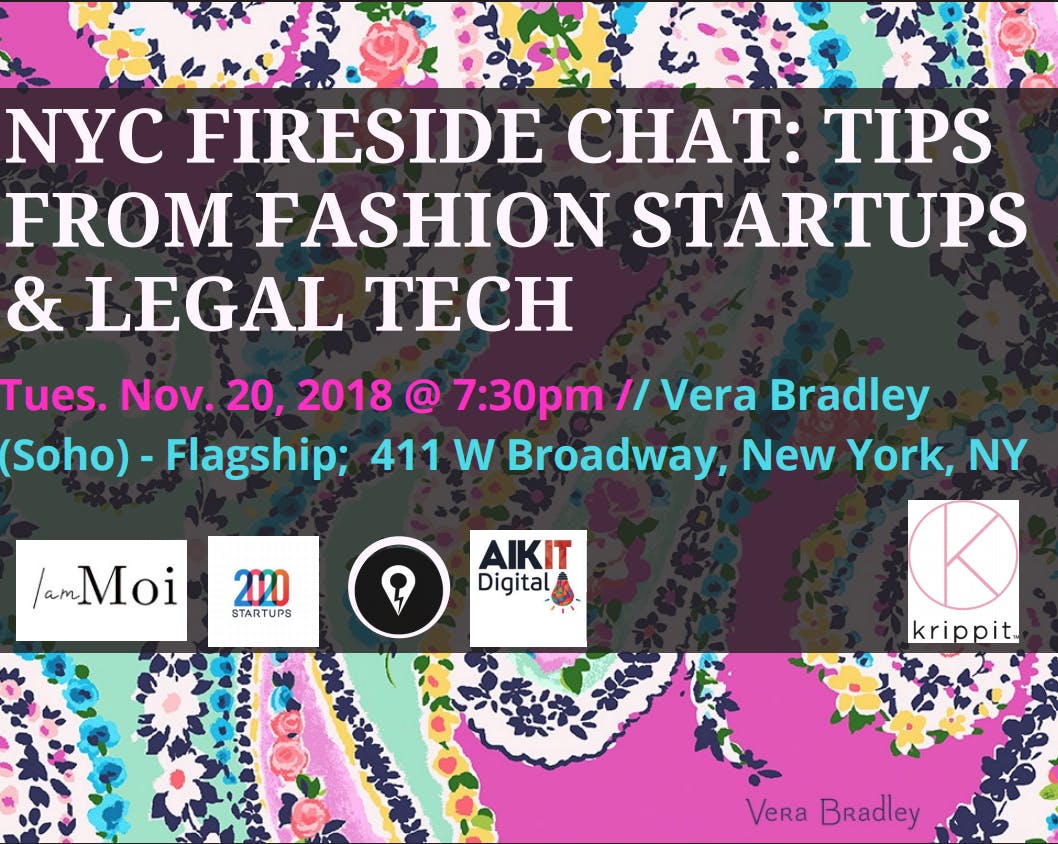 Image from eventbrite.com
---
NYC FIRESIDE CHAT: TIPS FROM FASHION STARTUPS & LEGAL TECH
Tues. Nov. 20, 2018 @ 7:30pm / Vera Bradley (Soho) - Flagship
411 W Broadway, New York, NY
Join krippit at the Vera Bradley store (Soho) for an evening of networking with NYC's Startup community followed by an interactive chat with our expert panelists. Guests are encouraged to come with their best questions about Fashion/ branding and law. *Prize: a pair of krippits will go to the person with the "best Questions"!

About this event:
Founder/CEO Melissa Chung of krippit begins to wrap up her three-month journey with 2020 Startups accelerator here in NYC. She has put together an expert panel that will share their unique journeys as a Startup in the intersection of fashion and tech.


Melissa Chung (Host/Moderator)


krippit

Founder/CEO
Nekei Lewis

QUUIRK HQ

Founder
Nekei Lewis is a digital marketing visionary in the world of technology with over 10+ years assisting over 450+ startup entrepreneurs create their passion into reality. As the founder of New York-based startup company Quuirk, she will be disrupting the marketing sectors in many verticals including e-commerce, advertising, retail, and search. Being a creative architect in the world of graphic design, she will be bringing innovative ideas to market with strategies using augmented reality, and voice to improve the world and save time. Watch out for this " future unicorn " as her future endeavors are to build a billion-dollar empire that will affect the world digitally.
Marina Rosin Levine

IamMOI

Owner/Footwear Designer
Marina refers to herself as a human Swiss Army knife because of her many capabilities and skills she has developed over her 15-year career in the footwear and fashion industry. She is a footwear executive who has helped build brands as well as cofound various original brands such as Due Farina, Capsule Collective and most recently, IamMOI. Some of the companies and brands that she has worked with include Schwartz & Benjamin, Highline United, Rebecca Minkoff, Tahari, Ellen Tracy, and numerous private label brands. Her recent experience has been working with a footwear company owned by a Chinese factory group; therefore she understands the potential of vertical relationships. In 2016 she launched Capsule Collective, a New York-based footwear design and sourcing studio. Her latest venture, IamMOI is a direct-to-consumer women's footwear company with a company mission focused on helping women run for office via providing tangible support to nominees. Through well crafted, factory direct priced and on-trend footwear, she gives a voice to the women who step up to the plate and run for office or are advocates in areas such as social justice, civil liberties, and the environment.
She is a graduate of Cornell University with a degree in business management.
Matej Kult

AIKIT Digital

Founder/CEO
Matej Kult is a Founder and CEO at AIKIT Digital, a software development studio with offices in Prague and New York. Matej is experienced with providing complex SW solutions, building teams and connecting individuals with clients across Europe and the USA (e.g., Honeywell, T-Mobile, DHL). The main focus is AI and combining human approach on driving innovation.
Noah Young

Lead Corporate Counsel

Brand Protection/IP/Contracts
Noah Young is a Partner at Young Lawyers Group where he practices corporate transactional law. With over twenty years of business and legal experience, Mr. Young has advised emerging and mature companies in business development, operations, and growth-related issues. He has worked extensively in matters including but not limited to, business entity formation, initial public offering (IPO) readiness reviews and filings, negotiated and structured business mergers, intellectual property portfolio management, business development, and critical deal-making for both start-ups and Fortune 500 companies. He has also negotiated and structured a number of U.S. domestic and overseas acquisitions and joint ventures.
As a legal advisor, Mr. Young has worked with business owners and senior management to develop business growth strategies dependent on the strategic goals and risk tolerance of the entity.
Mr. Young earned his Juris Doctor from Syracuse University College of Law, his Master of Laws from the University of Miami, his Master of Business Administration from Cornell University, and his Bachelor of Arts from New York University. Mr. Young is licensed to practice law in New York and New Jersey. He has both local companies throughout the United States and internationally.
461 Views - 21/11/2018 Last update
trade shows
business
courses
Start Up
culture
art
sports
Vera Bradley
411 West Broadway, New York, 10012, NY, United States
---
Are you an event organizer?
Create events for free. They will be immediately recommended to interested users.
Create event
Nearby hotels and apartments
411 West Broadway, New York, 10012, NY, United States
---
---
Vera Bradley
411 West Broadway, New York, 10012, NY, United States
Event from
eventbrite.com
---
Are you an event organizer?
Create events for free. They will be immediately recommended to interested users.
Create event
krippit

›