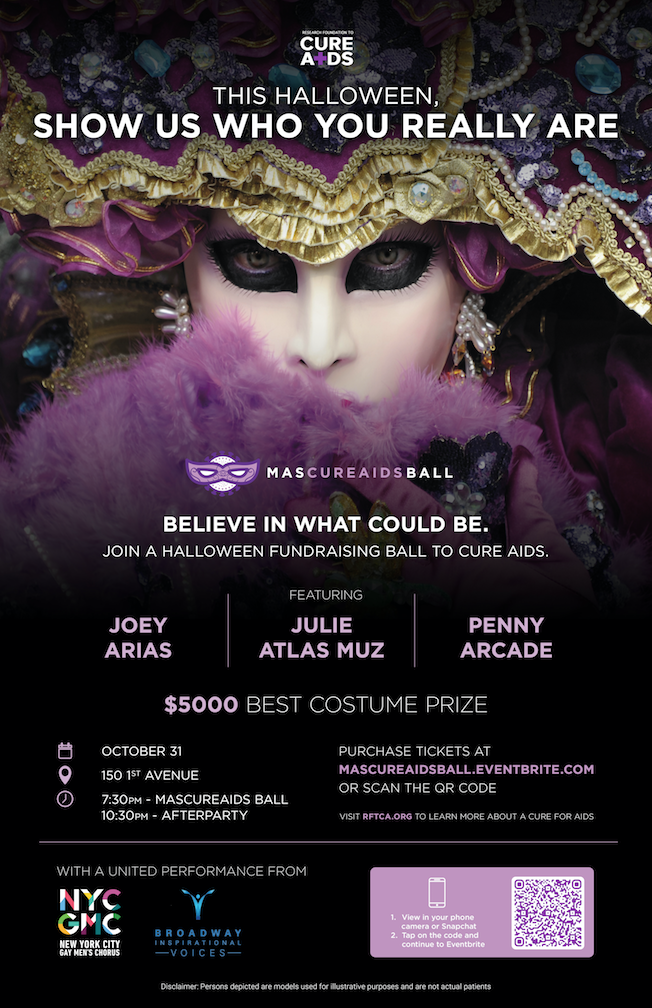 Dress Code: Outrageous.
$5,000 MIDNIGHT BEST COSTUME PRIZE with Michael Musto
Halloween Ball of the Century
Downtown NYC performance artists curated by provocateur Penny Arcade featuring the 2017 New York Times "New Yorker of the Year" Julie Atlas Muz, New York treasure Joey Arias and
New York City Gay Men's Chorus / Tonewall
with a special performance by Ana Matronic of Scissor Sisters
MC Patrik Gallineaux of Stoli Vodka Make-up Tent Virna Smiraldi
DJ Steve ZehentnerBig Scot
OFFICIAL AFTERPARTY OF THE HALLOWEEN PARADE
with your Afteryparty Host TIGGER! & Performances by Poison Eve, Nasty Canasta, Mr. Lee Valone, Faux Par le Fae, Shane Shae and Joshua Dean!
& your Afterparty DJ Pickles
CO-CHAIRS

Bruce Anderson, Patrik Gallineaux, Jennifer Hatch, Hal Moskowitz & John Murphy, Claude Salzberger & Joseph Lavine, Calogero Salvo & David Hubschman
SPECIAL GUESTS
Charles Busch, Flotilla de Barge, Stella D'oro, Machine Dazzle, Brini Maxwell, Steven Love Menendez, Sherry Vine
HOST COMMITTEE

Penny Arcade, Ken Ard, Joey Arias, Sergio Baradat, Bob Barbero & Tom Eaton, Charles Busch, Scot & Patrick Chaitoo, Dino Colonna & Marilyn Markman, Malika Cosme, James Davis, Flotilla de Barge, Dario de Martino, Stella D'oro, Lloyd DesBrisay & Gaston Alonso, Eddie Dillard, Franco DiLuzio, Mark Erson, Sue Evans, Jake Fishbein & Debbie Li, Jeanne Flemming, Robert Galinsky, Logan Gray, Amanda Harmon, Pamela Herron, Nate Holley, Kennth & Esther Kashkin, Luna Kaufman, Marlene LaLota, Carl & Jazmin Latemendi, Scears Lee, Keith Levy, Will Lewis, Chris Livoti, Carlos Lopez & Juan Flores, Timothy Lunceford-Stevens, Michael McGrail & Michael Kay, Steven Love Menendez, Daniel Mitura, Julie Miwa, Julie Atlas Muz, Nikola Pavelic, Richard E. Pelzer II, Denaka Perry, Pickles, Lutz Rath, Steve Rodrigeuz, Ryan Roemerman, Tamar Rogoff & Richard Heitler, Marcus & RoseAnn Sands, Paul Saso, Ross Schwartz, John Sefakis, Virna Smiraldi, Patrick Soluri, Monica Rose Song, Dyan Summers, Jill Steinberg, Tigger!, Sherry Vine, Michael Wakefield, Ashley Willis & Kate Bridges, Henry Bastos Wood, Steve Zehentner
RFTCA BOARD OF DIRECTORS
Allison Ceraso, Karen Hagberg, Ali Hemmati-Brivanlou, Charles Kerr, Christian Kopfli, Jesse Robert Lovejoy, Patricia Morris, Kambiz Shekdar
All proceeds support the Research Foundation to Cure AIDS (RFTCA), a 501(c)3 non-profit organization.