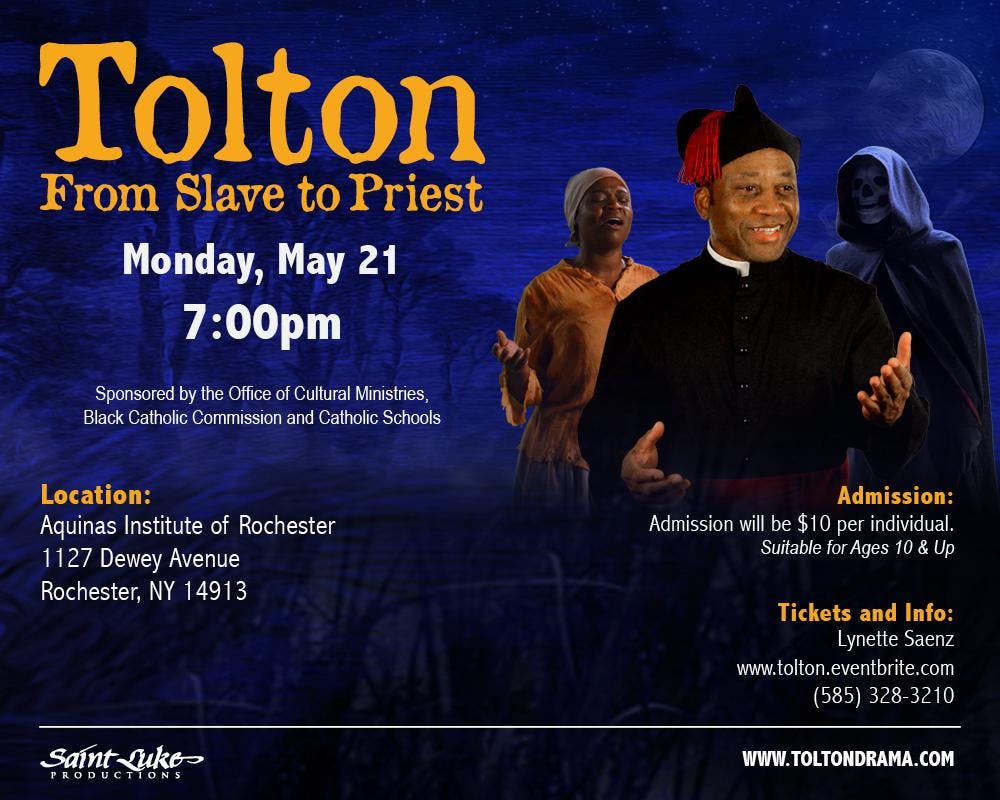 Image from eventbrite.com
Tolton: From Slave to Priest is a professional Catholic theater production based on the life of Father Augustus Tolton, the first recognized African American priest. His moving story brings hope to our society that so desperately needs his message of reconciliation and healing. To characterize Father Augustus Tolton's life as remarkable is an understatement, to say the least. He was born a slave on a Missouri farm in 1854, and his mother risked everything to reach freedom in Illinois with her three small children. The family continued to experience hardships and persecution, but Fr. Tolton persevered in his deep desire to become a Catholic priest. Now his cause for sainthood is moving forward, as more and more people are beginning to recognize the humble perseverance, determination and compassion of this extraordinary man.
This live, one-man multimedia drama will be showing for ONE NIGHT ONLY on Monday, May 21, 2018 starting at 7 pm (doors open at 6:15 pm) at the Aquinas Institute of Rochester, 1127 Dewey Avenue, Rochester NY 14613.
1758 Views - 22/05/2018 Last update
Nearby hotels and apartments
1127 Dewey Avenue, Rochester, 14613, NY, United States