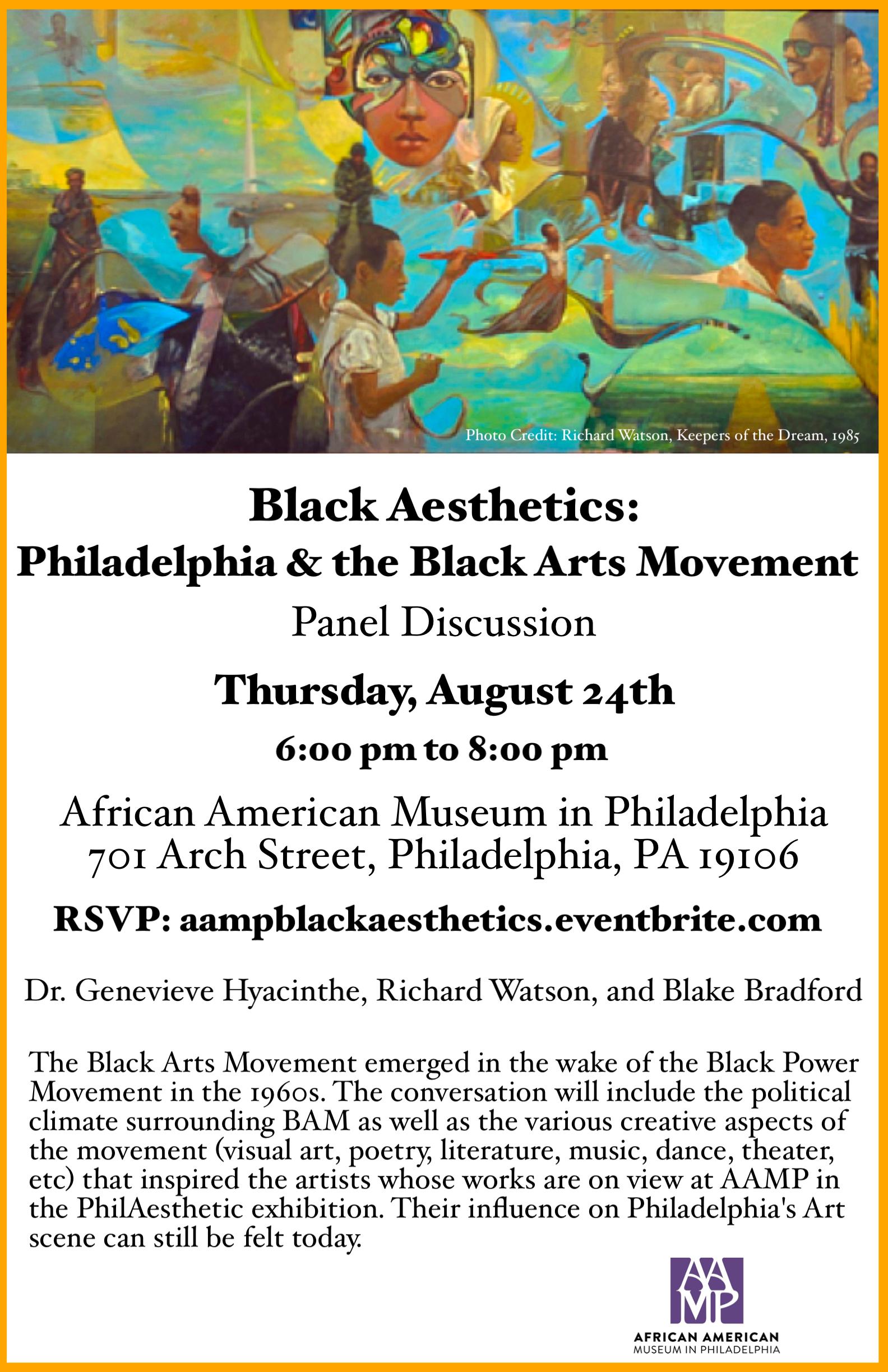 Image from eventbrite.com
The Black Aesthetic refers to ideologies and perspectives of art that center on Black culture and life. This conversation will focus on AAMP's current exhibition PhilAesthetic: 40 Years of Collecting African American Art, examining highlights of AAMP's collection including works on paper, paintings, mixed media and sculpture, many of which were made at the height of the Black Arts Movement (BAM).
BAM emerged in the wake of the Black Power Movement in 1965. The discussion will include how the political climate and various creative aspects of BAM (poetry, literature, music, dance, theater, etc) inspired the practice of the visual artists whose works are on view. Their influence in the Philadelphia Art scene can still be felt today. Dr. Genevieve Hyacinthe, MFA Faculty at the School of Visual Arts who recently wrote an article about artist Barkley Hendricks and the influence of the Philadelphia sound in his paintings (Berlin: De Gruyter, Fall 2017) will be in conversation with Richard Watson, Exhibitions Manager at the African American Museum in Philadelphia and influential artist whose work stem from the Black Arts Movement.
This discussion will be moderated by Blake Bradford, Director of the Lincoln University-Barnes Museum Studies Program. This event will take place on Thursday, August 24th from 6:00 pm to 8:00 pm at the African American Museum in Philadelphia (AAMP).
39 Views - 25/08/2017 Last update
Nearby hotels and apartments
701 Arch Street, Philadelphia, 19106, PA, United States