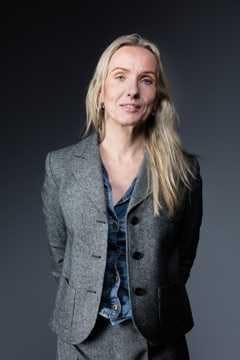 Image from eventbrite.co.uk
Autumn Art Lecture 2018: Monsters
When the work of Louise Bourgeois (1911-2010) was finally 'discovered' in the 1970s, her art was framed within a universalizing feminist discourse that lamented a woman's plight in generic terms. This talk proposes that Bourgeois later regained specificity and control around her art's reception by narrating her autobiography as a classic Gothic tale (a young female innocent, trapped in an ancient family home, haunted by a cruel and monstrous patriarch), a literary genre, then being re-appraised as an early instance of feminist resistance.
Dr Gilda Williams is Senior Lecturer on the MFA Curating programme at Goldsmiths, University of London, and author of The Gothic (MIT, Whitechapel). She is a London correspondent for Artforum and author of How to Write about Contemporary Art (Thames&Hudson).
Series Information
Inspired by the bicentenary of Mary Shelley's novel Frankenstein, this year's Autumn Art Lectures explore the ubiquity of monsters in culture as a prevalent part of our self-consciousness and social identity.
Opening with a reassessment of Mary Shelley by Fiona Sampson (whose acclaimed biography In Search of Mary Shelley was published earlier this year) we revisit Shelley's archetype in relation to other monsters from various periods and contexts, asking why Frankenstein's monster has both fascinated and repelled us since the first publication of Frankenstein, the modern Prometheus in 1818.
The series then moves to a medieval context with Alixe Bovey attributing the origins of modern Britain to savage giants - myths that have not wholly disappeared from our culture. An international approach will be taken by Ronald Hutton, whose discussion of dragons will demonstrate their moral, as well as geographic, diversity. Whilst Gilda Williams takes us into the 21st century, addressing issues of gender and the modern Gothic through the art of Louise Bourgeois. Finally, we complete the series with Xavier Bray examining the supernatural and eerie in the art of Goya (including the so-called Black Paintings) demonstrating the potentially beneficial function of the monstrous.
Event notes
The doors will open for this event at 6 pm. Please be seated ten minutes before the event start time and note that latecomers may not be admitted.

If you have any access requirements, please get in touch with the event organiser. Please note the methods of evacuation for this building and find out more about the accessibility of this venue via DisabledGo:

https

://

www.disabledgo.com

/access-guide/university-of-bristol/wills-memorial-building

The University of Bristol Events Team, Communications and Marketing, is committed to ensuring that your privacy is protected. Please visit our

Privacy Policy

which explains how we use the information we collect about you. By submitting your information, you consent to the use of that information as set out in this policy.

Our events are usually audio recorded and there may be a photographer or filming taking place. Please contact us with any questions.
1536 Views - 14/11/2018 Last update
Nearby hotels and apartments
Queen's Road, Bristol, United Kingdom