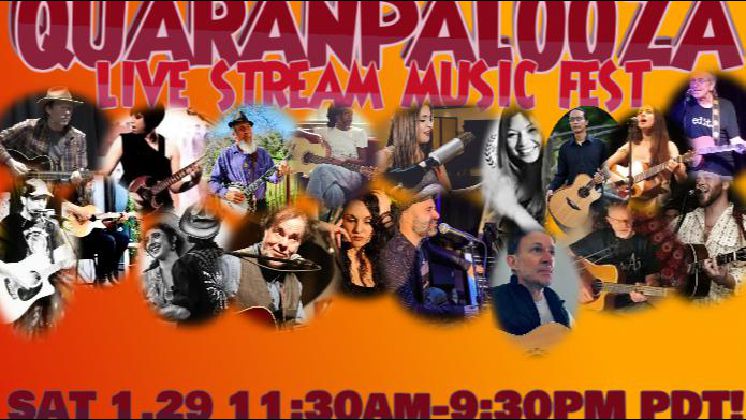 Image from eventbrite.com
QuaranPalooza: Playing For A Cause
Hi Friends!
We're excited to bring you the multi-performer, multi-genre livestreaming music festival extravaganza we call QuaranPalooza. This is number 21, and we have 27 fantastic performers and 10 hours of music for ya, Saturday 1/29 11:30AM - 9:30PM PDT, with performers from NYC, Wisconsin, Arkansas, Malaysia, Upstate NY and plenty of talent from right here in The Bay Area!
Your ticket gets you onto The Zoom + into the party!!
Get a ticket @ https://bit.ly/janqptickets and join us in The Zoom, and we'll donate 25% of ticket sales to Bay Area Cancer Connections! We have a goal every month of raising and donating $100, you can help make that happen by getting a ticket or can donate after clicking the tickets button.
The show will feature :
11:30-11:40 Sunny
11:45-12 Michael McNevin
12:05-12:15 Mjoy
12:20-12:35 Bert Lee
12:40-1 Craig Greenberg
1:05-1:20 Dakota Dry
1:25-1:45 Sariyah Idan
1:50-2:05 Frances Ancheta Becker
2:10-2:20 David Jesitus
2:25-2:40 The Hughes Effect
2:45-3 Kevin Radley
3:05-3:20 BanjerDan
3:25-3:40 Elizabeth Lubin
3:45-4 Anna Troy
4:05-4:25 The Sapsuckers
4:30-5 The Eastern Highs
5:05-5:25 Michael Rosen
5:30-5:45 Pat Nevins
5:50-6:10 Az Samad
6:15-6:35 Deborah Crooks
6:40-6:55 Lisa Graciano
7-7:10 Katherine Park
7:15-7:30 John Rybak
7:35-8 Sol Mriya
8:05-8:20 Maggie Forti
8:25-9 David Gans
9:05-9:30 Bruce Hamm, Joanna Mack, Ferhan Qureshi
A $15 ticket gets you into the fest and onto The Zoom with us + we donate 25% of ticket sales to Bay Area Cancer Connections!
Tickets -> https://bit.ly/janqptickets
Event Page -> https://www.facebook.com/events/713934826198547

2863343 Views - 30/01/2022 Last update